Preparing for a beautiful wedding makeup starts with a simple yet crucial step: Creating a wedding makeup and hairstyle schedule!
In this article, we go through the main factors you need to consider when thinking of your wedding make-up schedule, tell you a bit about some usual occurrences on the wedding day, and go through wedding makeup pricing to help guide you toward the ultimate choice for your big day!
Many variables need to be determined to have a proper and smooth bridal makeup procedure for your wedding ceremony.
Solo makeup or alongside the bridesmaids?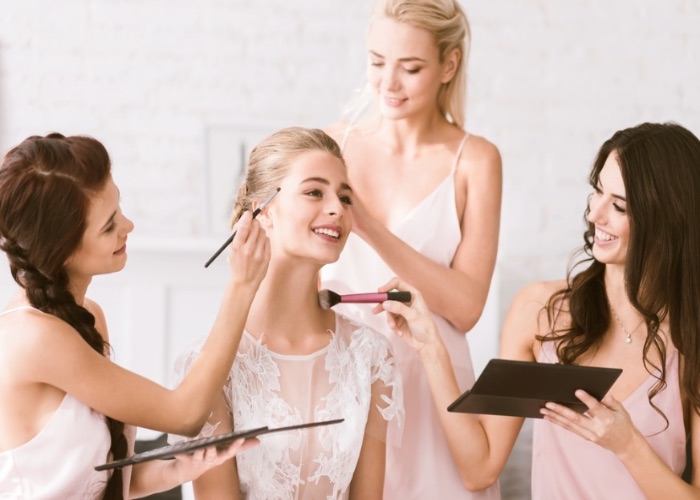 Whether it is just the bride sitting on the makeup chair or there are also her family and her bridesmaids to take into account is a crucial factor that can significantly alter your total dedicated time. The newlywed may choose to have a solo and focused makeup routine or go through a more classic bridal makeup session and have her bridesmaids sit in the same room for the stylists to apply similar wedding makeup styles.
It is recommended that wedding makeup artists prioritize the bride and start with her. This would allow the party to be able to cover any occurrences of unexpected time-taking incidents in favor of the woman of the day.
Dedicated makeup for the photoshoot?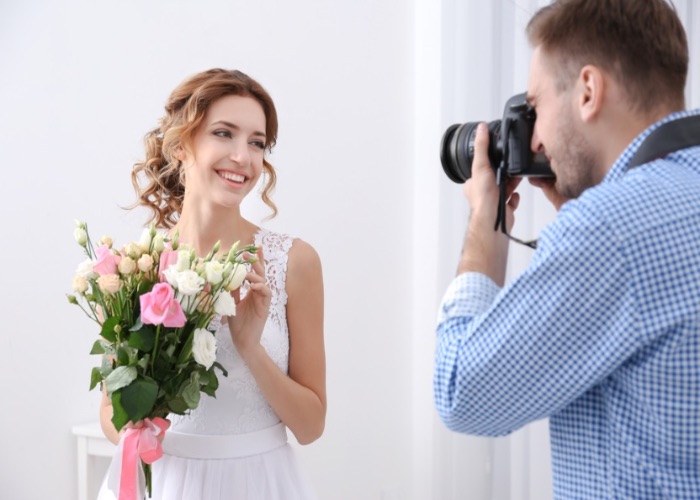 Another critical decision is to have the photography session on the same day as the wedding makeup to cut the costs of a double bridal makeup package or carry out another makeup procedure before or after the wedding to reduce the workload and create a less stressful wedding day. Whatever the case, it is always a good idea to book the wedding photography crew an hour earlier than the estimated time to avoid any unnecessary waiting and start the photo and video capturing right after the wedding makeup.
Finally, if you are living in a big city and you have to go to a salon to have your wedding makeup on-site, it would be a good idea to overestimate the traveling times from your home to the salon and then to your ceremony location to prevent getting stuck in traffic or behind an unexpected roadblock.
Wedding makeup costs?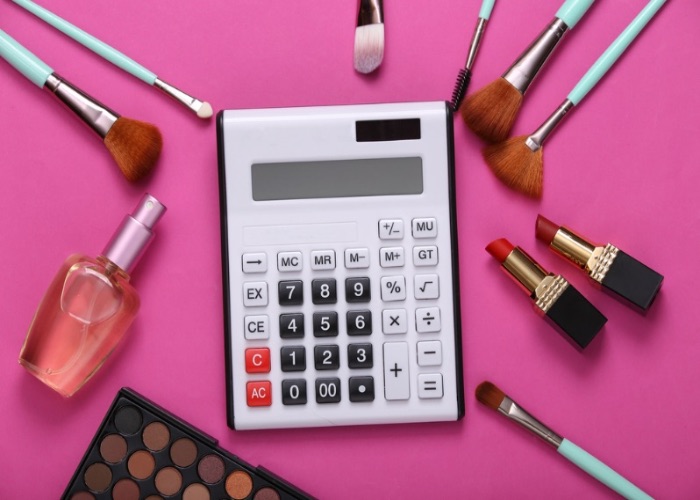 There is a multitude of variables that determine the wedding makeup costs. Your bridal makeup and hairstyle of choice and the required tools and products, the date of your wedding and booking in high or low demand times of the year, your wedding location and the usual prices of that city are some of the most prominent factors that make up the final price.
When it comes to creating a wedding makeup package, there is also the need for hiring assistants or multiple beauticians, the experience level of the bridal makeup stylist, the added brand costs of choosing a famous wedding makeup salon, and booking a trial session to guaranty achieving the look of your dreams on the best day of your life. These are key factors that shape your final wedding makeup prices.
Fortunately, most beauty salons that include special bridal makeup photos in their portfolio of services offer designated wedding makeup packages to meet the needs of brides of different tastes and accommodate various budgets and wedding styles.
Wedding makeups and hairstyles range from $100 to $350, varying based on the mentioned factors. The packages usually include a couple of additional people with the option to add more for additional prices of $50 to $100 per person.
Some wedding makeup artists cover a single trial session in their package, but sometimes you have to pay an average of $100 for trials. It is crucial to examine all the possible costs and service inclusions in every package to avoid any surprise costs and make sure you are going with the best bridal makeup stylist for yourself.
How to choose the best wedding makeup for yourself?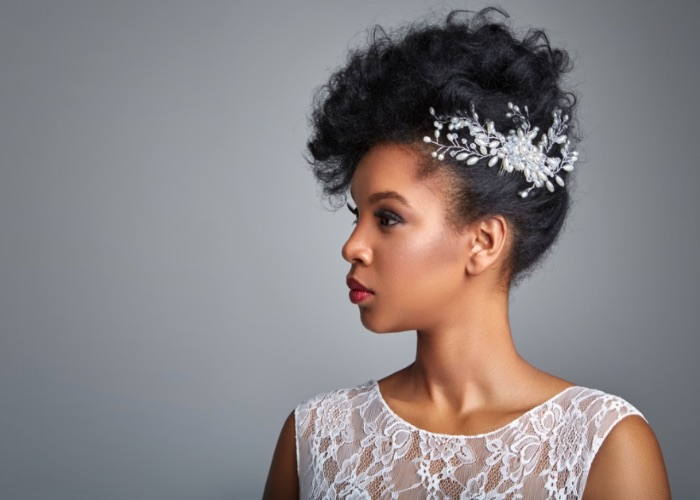 Now that we went over the costs and pricing, we get to choosing the best style for your face. Well, your bridal look will be on at least one of your walls for the rest of your life. So make sure to go for a wedding makeup look that is timeless. Choosing a look that highlights everything beautiful about yourself is key to having a great wedding style based on your eye color, skin color, hairstyle, and dress. It is generally not recommended to try something new, edgy, or anything that might make you uncomfortable. Nothing is more attractive than a girl feeling confident and at home in her skin. Try to opt for a bridal makeup that complements your dress, and do not overdo your makeup to the extent of becoming indistinguishable from your usual self.
Does wedding makeup last all day?
If you choose to hire professionals for your wedding makeup, they will make sure to make your makeup lasts as long as possible, which usually extends further than the wedding duration. If you decide to do your own makeup for your wedding, using a setting spray will help you fix your look for 16 to 18 hours by adding sweat and waterproof layers on your skin. Having an organized skin routine a few weeks before the wedding will also help you set a better foundation for the wedding makeup to last longer.
What if you decide to do your wedding makeup yourself?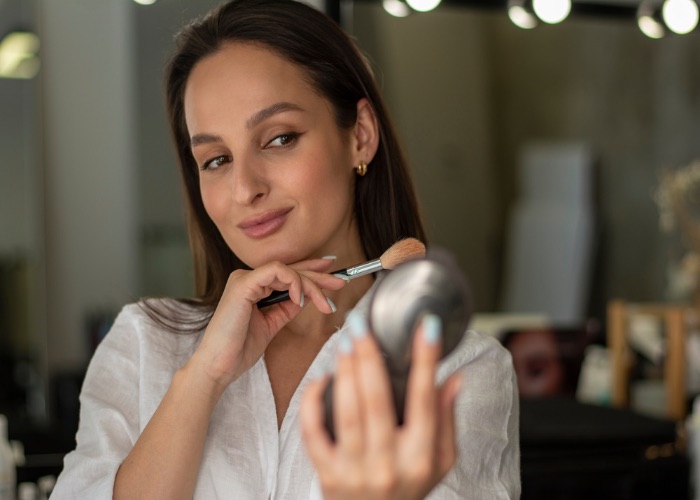 Most people decide to choose a low-key bridal makeup that complements their wedding dress. If so, it is quite possible to do your own makeup for your wedding. It saves you a lot of time and money, and you can make sure to have exactly what you want as your destiny will be in your hands. However, your wedding day is not a day for trial and error, so make sure to practice as much as possible to apply the makeup confidently. Alternatively, if you do not want to go through the responsibility yourself or break the bank, you can ask a skilled friend or hire an inexpensive professional to assist you on your wedding day.
Frequently Asked Questions:
When to do a wedding makeup trial?
Wedding makeup artists are usually reserved for many months in advance, so it is recommended to book the bridal makeup trial as soon as finalizing the wedding date, or 3 to 6 months prior to the actual wedding makeup to have enough time to change anything you want.
How long does wedding makeup take?
That is usually relative to the size of the party, whether it is just the bride or there are also her bridesmaids, and the number of available stylists. The makeup for each bridesmaid usually takes about 30 to 45 minutes, with the bride herself needing at least 60 to 90 minutes to go through the process.
Are wedding makeup trials free?
The wedding makeup trial costs totally depend on your bridal makeup package. Some salons include one or two makeup trials in the package, while others may charge a fraction or the full price of the wedding makeup for each trial.
We tried to cover all you need to know about going through the wedding makeup. We hope it helped you understand all you needed to know about all the procedures to make a better decision for the best day of your life.
Beautster brings you all the best wedding makeup salons and bridal make-up specialists around your location to help guide you through finding the best option for yourself! Click here to have a look at the client pictures, check out their calendar, and book a consultation session immediately to ensure your well-being and enjoy having the wedding of your dreams!