The eyebrows have been the defining feature of people's faces for long. Your eyebrows elevate your eyes and give character to your facial features. This is why it is crucial to go for a brow treatment that can truly enhance your beauty and go well with the nature of your face.
You can get the desirable, proud, and attractive brows of your dreams through various eyebrow treatments, but choosing the best treatment out of all eyebrow services can be a bit overwhelming.
In this article, we try to get the scoop on all the differences between each service, their process, who they suit the best, and their pricing to help guide you toward the ultimate choice for your brows.
Eyebrow Trimming and Tweezing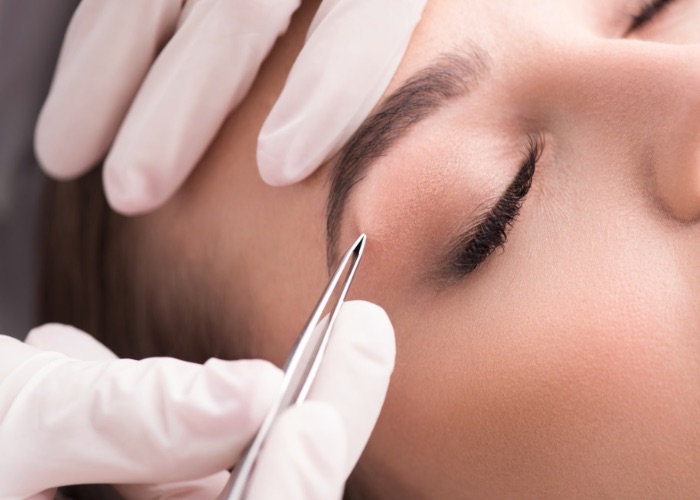 The first eyebrow treatment to talk about is eyebrow trimming and tweezing. Brow trimming and tweezing is one mode of cleaning up and shortening the brow hair. In tweezing, the stylist removes the hair from the root, and in trimming, she brushes through the brow and cuts the extra hair. You can use tweezers and scissors yourself, but you can also go for a professional tweezing session every 4 to 6 weeks to keep everything tidy.
Available at every beauty salon everywhere, tweezing and trimming are easy methods to keep your brows look full and clean. They are risk-free, fast, and cheap, costing from $10 to $25 in various salons.
Eyebrow Threading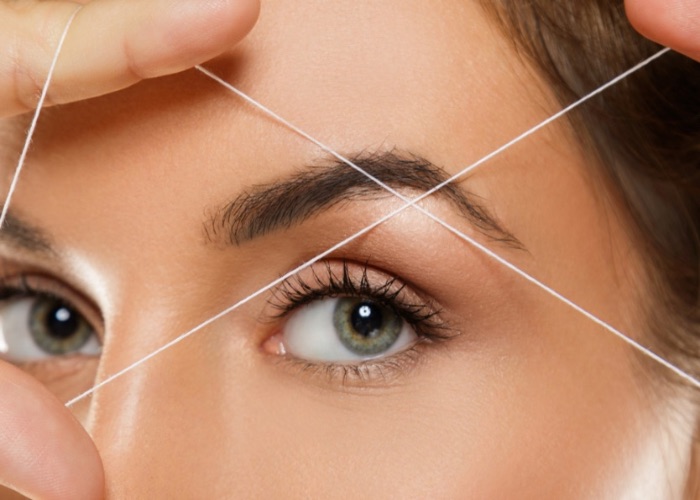 And then, one of the oldest methods of eyebrow hair removal, eyebrow threading is a technique that involves a threading expert to roll cotton threads over the skin, taking out the unwanted hair out of its root. Completely natural and mechanical, eyebrow threading is one of the most precise types of hair removal and applies no chemicals to your skin. Threading is recommended for sensitive skin and lasts for about two weeks.
A professional threading session is priced at about $10 to $30, making it another affordable and budget-friendly option for your brows.
Eyebrow Waxing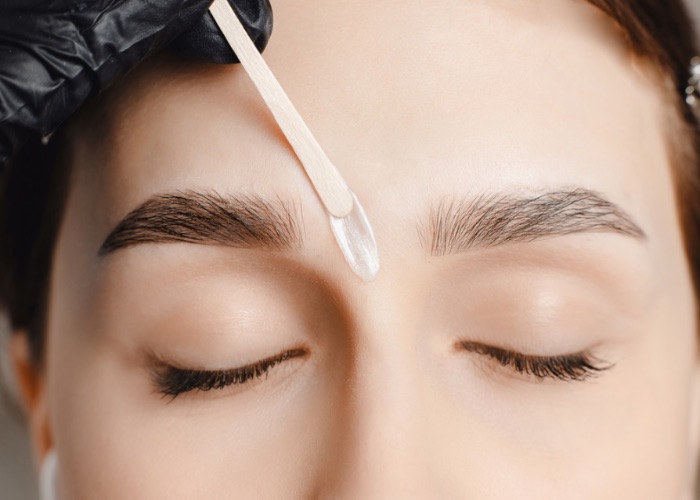 Waxing is another popular eyebrow method to have a look at. Waxing is the application of a thin layer of warm wax on the skin. The technician places a piece of fabric on the wax and pulls it off quickly to remove the hair attached to the wax. If correctly performed, waxing is not painful or does not burn your skin. The warmth actually softens your skin, allowing the hair to be pulled off easier. Waxing removes all the hair from a particular line onwards, so it is an excellent choice for people opting for a strong and sculpted arch.
Waxing lasts for 2 to 3 weeks, based on your hair growth. If performed at home, waxing can be pretty cheap, costing about $15 to get the required materials, but marking the area with a brow pencil is recommended to perform it more accurately. In-salon waxing session can cost from $30 to $50 for a more professional waxing experience.
Eyebrow Tinting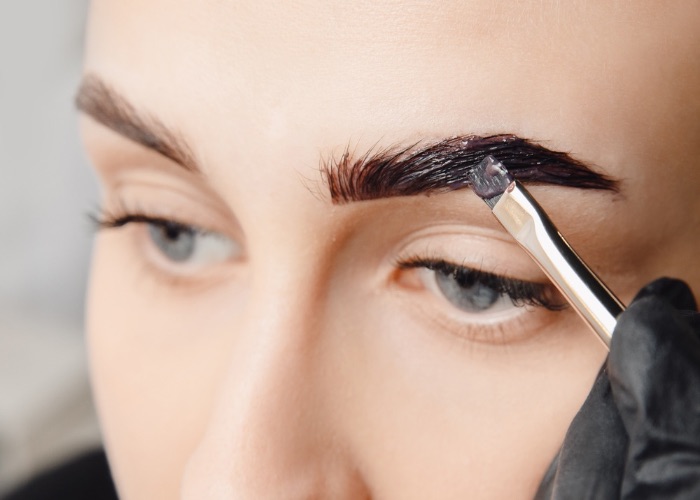 If removing brow hair or changing your brow shape does not get you closer to your desired look, and you would rather have bolder brows and make them appear full and defined, Brow tinting is the way to go. Instead of filing your brows every day, you can color your brow with a vegetable-based dye activated with peroxide to quickly transform your brow into arches that stand out. Brow tinting is an excellent option for those with light, fine or transparent hair as it can bring dimension and thickness to their brows.
You can bundle up tinting with other treatments such as threading to have well-groomed, defined shapes and styles that last from one to three months and cost about $15 to $25.
Eyebrow Henna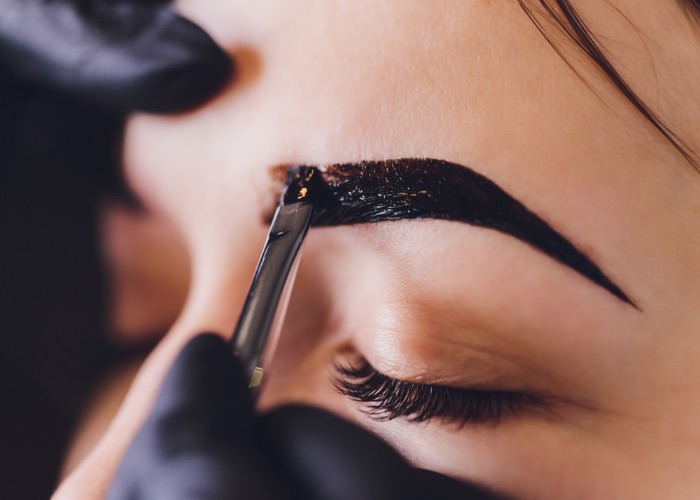 Beauty seekers can try brow henna for an even more organic and natural tinting process. The technician tweezes and waxes your brows to shape them, mixes henna with water to form a paste, and stains the skin behind the brows to create the look of fullness. Henna is entirely derived from plants and is activated with water or rose water.
Henna results last up to 10 days on the skin and 6 weeks on the hair, costing from $50 to $100.
Eyebrow Tattoo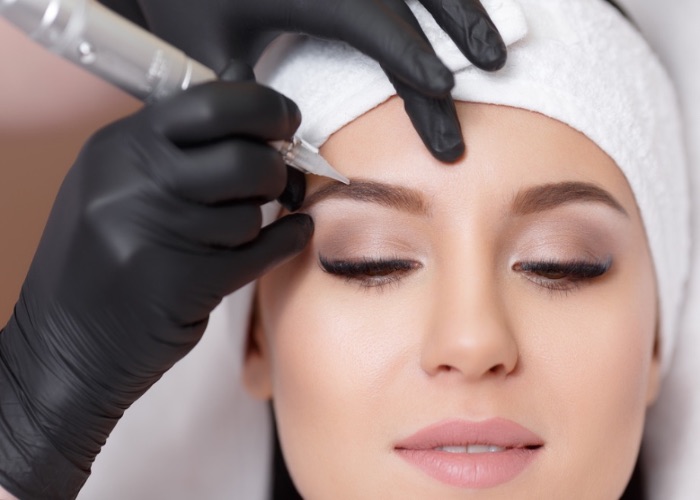 For a more permanent treatment, you can try eyebrow tattooing. As the name suggests, eyebrow tattooing is tattooing the shape of your desired eyebrow on the skin. Eyebrow tattoos look really realistic, designed to imitate the looks of a naturally defined eyebrow with texture, fullness, and precision in mind. Like a regular tattoo, eyebrow tattoos penetrate the skin and inject color pigments that can last a lifetime. So make sure to consider all the essential factors before committing to a commitment of such sort.
The procedure can be a bit painful and cost from $300 to $500 for the initial process, and about $100 to $150 for every follow-up session as the ink fades a bit over time and needs a retouch.
Microblading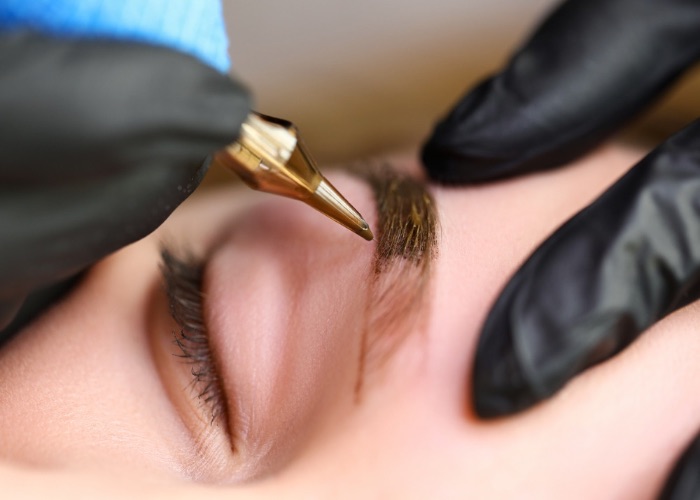 The semi-permanent solution to achieve natural-looking full eyebrows, microblading may actually be the hassle-free option that can be a milder alternative to eyebrow tattooing, with much less pain and strict commitments in the long run.
In the microblading process, The esthetician uses tiny blades to apply color pigments to the skin, resulting in finer, more delicate tattoo lines that look like natural hair, as this technique is more superficial and subtle. Microblading takes about 2 hours to complete and is a great choice for people suffering from alopecia or chemotherapy. Microblading is pain-free, as the technician uses an anesthetic cream to bring you comfort, and achieve results that last from 12 to 18 months.
Microblading prices start from $250 and go as high as $2000 in a celebrity salon. You can read our featured article on microblading here, or watch our dedicated microblading video on our Youtube channel!
Eyebrow Extensions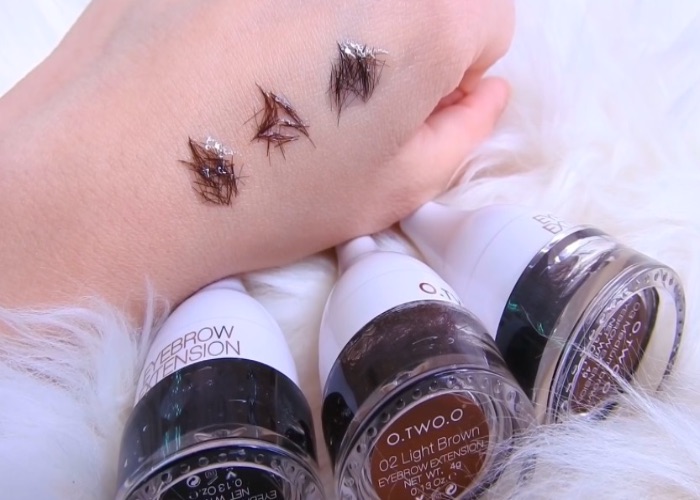 And then, there is the option to add hair extensions to your brow hair, just like eyelash extensions or hair extensions, to achieve a natural, full look. The technician outlines the new brow and uses surgical-grade adhesives to connect the extensions to your natural brow hair one by one, which usually takes about an hour and needs a refill every 2 to 4 weeks. You would need some natural brow hair to be able to affix the extension, but you would not have to worry about any redness or pain during and after the treatment.
Brow extensions cost about $250 for the initial procedure and $100 for each refill.
Eyebrow Lamination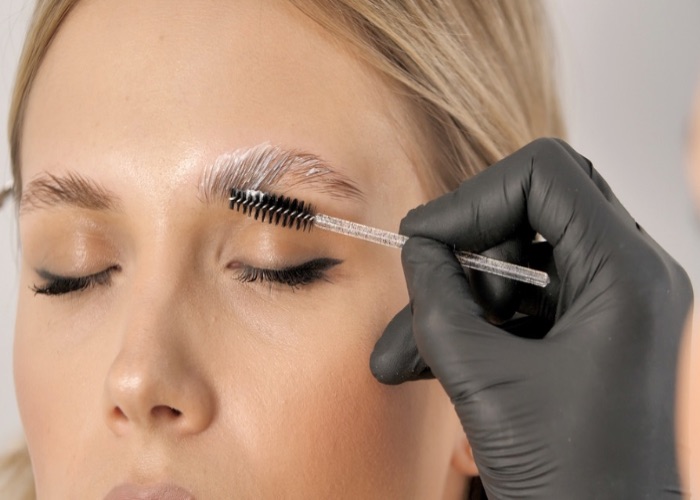 Eyebrow lamination is another great service that relaxes and straightens your brow hair, enabling it to be styled in various ways like sleek, arched, or fluffy. The brow lamination process is pretty similar to hair straightening. The technician breaks the hair bonds with chemicals, adds a fixing solution to shape them into the desired form, and applies special brow serums to remoisturize the brows and skin.
Eyebrow lamination works for everyone. Sparse brows can turn into brows that look full, and naturally thick brows can benefit from the styling options and definition. Eyebrow Lamination lasts up to 8 weeks and costs about $100 to $300 from salon to salon.
Frequently Asked Questions:
What eyebrow service should i get?
Threading is the safest choice for sensitive skin, while trimming and tweezing is the most versatile service to keep your brows elevated. As for thin and light brows, you could try tinting to add some dimension without going through many chemicals.
Can eyebrow hair grow back?
Eyebrow grow back most fo the time. The growth rate however, depends on many factors such as your age, overall health, and your usual hair growth. Avoiding any hair removal such as tweezing and waxing and going for a nutritious diet for a while may speed up your eyebrow growth too.
Where is an eyebrow service near me?
Eyebrow services are available at most beauty and hair salons everywhere but if you are in Canada, you are in luck! Beautster has brought together the best eyebrow salons and technicians around your location and made them available for booking! Click here to have instant access right away!
We tried to cover all you need to know about different types of eyebrow treatments. We hope it helped you understand all you needed to know about these similar yet different procedures to make a better decision for the future of your brows.
Beautster brings you all the eyebrow technicians, brow estheticians, and brow salons around your location specializing in Microblading, threading, and more, to help guide you through finding the best option for yourself! Click here to have a look at the client pictures, check out their calendar, and book a consultation session immediately to ensure your well-being and enjoy having the eyebrows of your dreams!