In Beautster, we offer haircut deals on numerous hairstyles from experienced professionals from different salons near you! All you have to do is find out your preferred style from our bookable photos. In this article, we try to break down one of the most popular haircuts used by many people with different beauty backgrounds, the fade haircut.
What is the best haircut for men?
Choosing the best option where there are hundreds of thousands of options is a nearly impossible task. Each face shape, hair type, color, and even outfit would go well with certain hairstyles, and there are not many haircuts that can fit any style and look good on almost everybody. However, when it comes to a timeless haircut that can enrich a professional business look as much as a casual party outfit, fade haircuts seal the deal for men of all ages and skin tones.
Men's fade haircut is one of the simplest yet most effective ways to add detail to your looks and personality. This classic technique effectively tapers men's hair and provides fade haircut styles that leave little or no hair at the sides and the back of your head. Taper Fade Haircut is progressive and goes from no hair into more hair as you keep on moving toward the top of the head. Fades have been some of the most popular haircuts in Canada, and most salons near you can offer you the best fade haircuts for men.
There are different fade haircut styles for men, and the type of taper fade haircut you'll be choosing will have a massive effect on how your haircut shapes up. Let's go over the best fade haircuts that any professional salon could pull off with ease.
What Fade Haircut Should I Get?
The Taper Fade haircut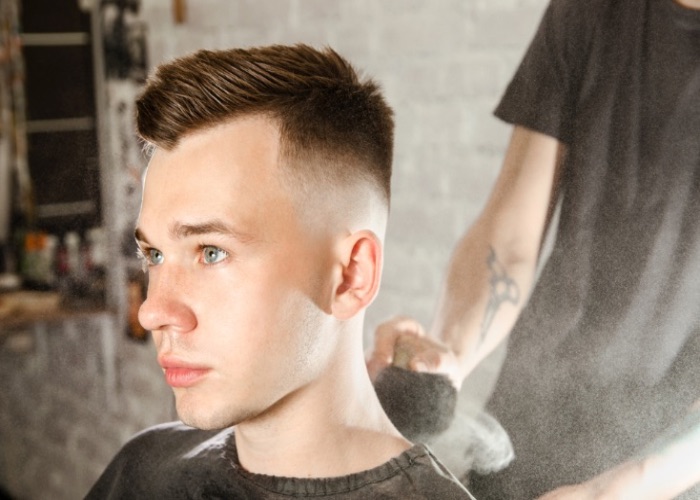 Classic, clean, and versatile, taper fade haircut is definitely a crowd-pleaser. It is a sharp haircut, but not so severe, meaning it'll work at your desk as well as when you're off duty.
A taper fade haircut usually goes from nothing into a blended length. The taper style starts from the nape of your neck to the parietal ridge. It gradually gets darker as it gets higher (the parietal ridge will be at the top of the head, usually defined as the widest area of the head, where the head will start to curve away). You can get Taper fade hair cut in most places in Canada easily.
Also Read: How Much Should You Tip At A Hair Salon?
Who is it for?
The taper fade haircut is a great look for people who need a smarter haircut but at the same time also want it to look more natural. Since the taper fade cut lacks significant scalp exposure, it can be used as the basis for different styles up top, including a neat scissor crop to longer or other dramatic styles. It can be used for boys to adults.
The High Fade haircut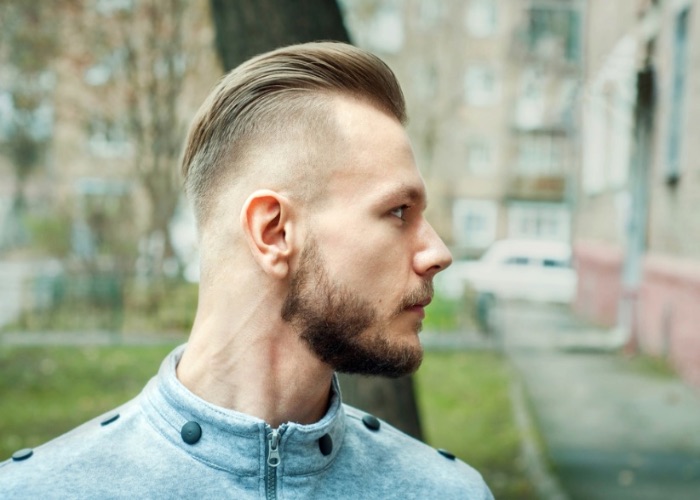 Similar to the Fresh Prince, but a bit bolder, the high fade haircut, also known as the high and tight, is a high-contrast men's fade haircut style where most of the hair on the sides and the back of the head are shorn back to the skin using a foil shaver. The more extreme versions of this cut can be found on some of the best skin fade haircuts, with the shave starting from the lower parts of the skin and joining the hair higher at the top.
For the high fade haircut, the natural shape of your head will not be taken into account, and a new baseline will be created around the area from the lower crown to the upper recession. This will result in a highly stylish finish, which will be anything but subtle and will definitely turn heads. High fade can also be the foundation for other cuts such as long on top short on sides fade, bald fade long top, and high top curly fade, which are some of the most popular cuts that go well with balder sides of the head. If you like sporting a small fringe in the middle, you try asking your barber to give you a crop top skin fade to create a high contrast of eye-catching hair and a touch of skin around it.
Who is it for?
The High fade haircut is among the best fade haircuts for men and is one of the most popular choices for Afro hair types and American flattops. It is decent for people who don't mind extremely short hair, and it is perfect for round or square-faced people.
The Low Fade haircut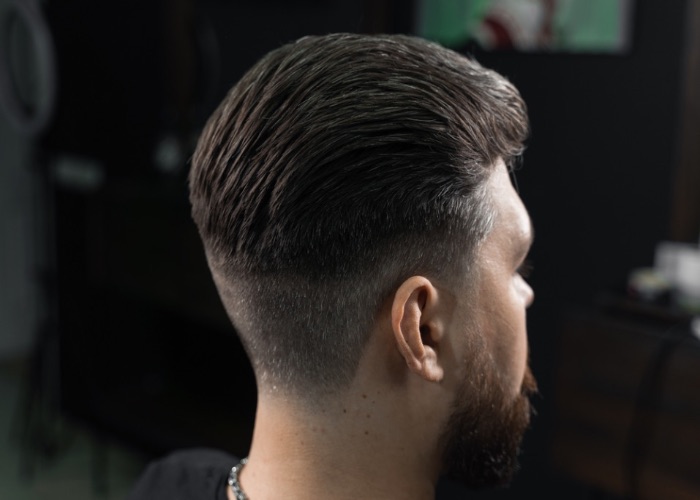 Less subtle than the taper fade haircut, a low fade, or a low top fade, will put a little more skin on the show and offer a finish that is clearly demarcated but still far from a skinhead.
Low fade haircut starts extremely low with the skin at the bottom and slowly blends up from that point, following in the head's natural curvature. It is an excellent way to showcase your hair with more texture or achieve a wavy look on top. The hair on top is often left longer for adding style to the haircut.
Who is it for?
A low fade haircut is a decent option for more diamond, oblong, or triangular head-shaped people. It also complements a well-groomed beard, creating a contrast in texture between your haircut and your facial hair. For frizzy-haired people or people of African origins with natural coily hair, high tops can be mixed with low fades, creating low high top fade.
The Mid Fade haircut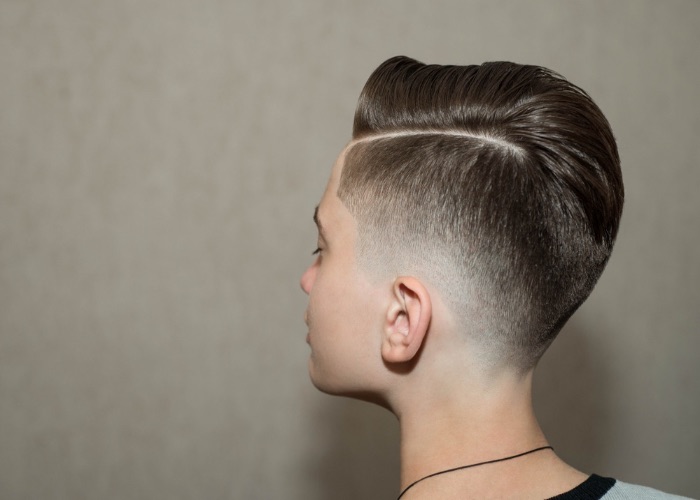 A bit more noticeable than the low fade haircut but not as scalp exposing as the high fade haircut, this one is unsurprisingly one of the best faded and in-demand hairstyles for men. It is ideal for creating a harder hair-skin blend line if you are looking to take a more old-school approach to your haircut.
The mid-fade haircut will start around the point above your ears, making it distinctive but still adaptable to different hairstyling approaches. The mid fades can also be transformed into short fade haircuts as they are some of the best fades for men with shorter hair in the middle.
Who is it for?
The mid fade haircut is a popular option for all ages and is great when accompanied by a longer beard. However, you should ensure that you use a firm-hold gel or wax to keep the haircut neat and under control.
What do I tell the barber for a fade?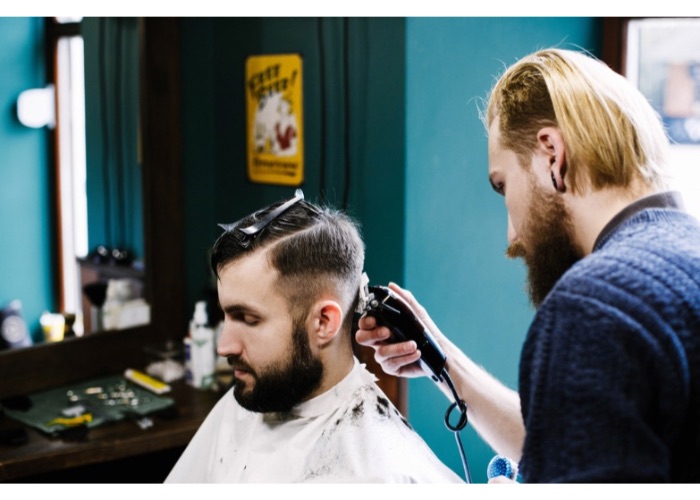 It is crucial to communicate well with your barber to get the best possible results. Fade haircuts vary a lot by definition despite looking similar on most occasions. Learning about the different types of fade haircuts beforehand can give you an idea about which haircut is more suitable for you when sitting on the barber's chair.
Instead of sticking to the trendiest cut, finding out which haircut goes well with your own personality can make you stand out more and be a game-changer for your looks. Once you explain your characteristics and beauty goals, your barber can help match a fade with how edgy, radical, or trendy you want to look in real life and try to create an image that presents your true self to the world.
When speaking to your barber, having a picture of a good fade haircut that you prefer over the others can communicate a thousand words. That is why in Beautster, we have dedicated categories of real-life photos of several different hairstyles and haircuts from barbers around you to help you choose your favorite one and book a seat from that salon in a matter of seconds. Visit our ((((Fade hair cuts bookable photos feed)) to make sure you are getting precisely what you want from the hands of a professional.
Does every guy look good with a fade?
It is impossible to claim that anyone sporting a particular style can look good in it. Nevertheless, It is safe to say that fade haircuts, due to their versatility and providing a middle ground between classiness and being sporty, can improve most styles for men of different hair types and head shapes. People who do not want to spend much time on their heads can go with a messy crop top fade, and balding heads can continue to look great with a buzz-cut fade receding hairline. At this point, it is only a matter of finding your best faded hairstyle, regardless of how you look in the first place.
What is the most common fade haircut?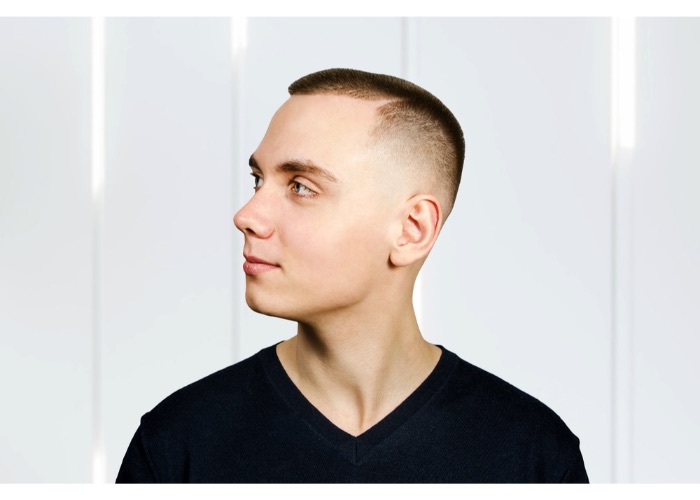 Generally speaking, as most people do not have the time or the energy to style themselves first thing in the morning, the most popular hairstyles have always been the ones that require low maintenance and look good right out of bed. With fades, your hair maintenance will depend on the rate of your hair growth on the sides, as well as the amount of hair you leave in the middle. So faded haircuts with a shorter center are some of the most common ones as they need the least among of commitment and leave the user with the most amount of time in after they wake up.
Low fade buzz cuts, low fades with messy tops, and low bald fades with a curly middle are some of the top fade haircuts out there.
Get the best, most stylish fade haircut in Toronto and Vancouver
If you are wondering where to get the best fade haircut near me in Toronto and Vancouver, go for a trusted salon instead of doing the trial-and-error method. Every salon you'll find on Beautster will give you great fade haircuts, making you want to come back in the future.