The world of hair smoothening is expanding by the day. Every day, people with a bit of untamed hair, those with small frizzes here and there, or full-on coily haired beauty seekers choose to go down the path of different types of hair smoothing treatments to achieve a more manageable hair that is sleeker, shinier, and softer. If you ask any beautician for advice on smoothening your hair, they will tell you about a plethora of good options that can help you get close to the straightness of your dreams. Most of these processes require a long-term commitment to aftercare. They need extra attention in the long run, so it is crucial to settle down with the best possible choice for your hair to enjoy all the hair smoothening benefits and avoid the hair smoothening side effects as much as possible.
In this article, we categorize the different methods of battling the curls and break down the most common types of hair smoothing treatments, from techniques performed by the stylists in most salons to various chemical, natural or mechanical ways to smooth your hair from the comfort of your home. Sit tight and enjoy the ride to a straighter hair with Beautster!
In-Salon Treatments
The traditional way to do hair smoothening is to book a smoothening session at a beauty salon of your choice. You can get an experienced professional to masterfully apply the products and carry out the several steps of a hair smoothening treatment over the course of a few hours. Here are the most popular hair smoothening treatments performed at almost every salon:
Keratin Treatment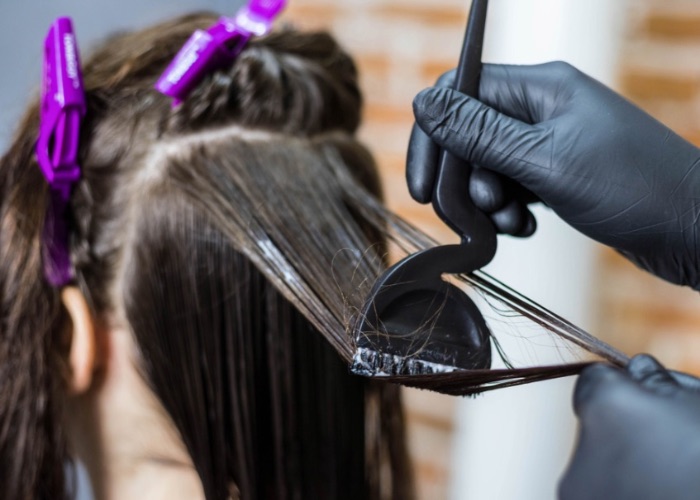 If you have ever sat on a salon chair in a crowded beauty salon, you have heard of Keratin at some point. Keratin is the name of the protein that strengthens the hair and gives it its natural shape and characteristics.
Generally, doing Keratin treatments for hair smoothening consists of a few steps. Breaking down the natural molecular structure of the curly hair with powerful chemical dissolvents, straightening the hair with a flat iron to rearrange the strands upright, and applying Keratin and neutralizers to fix the straighter hair in its place. The process takes 3 to 5 hours and is relatively expensive due to the extensive usage of products and the time it takes to apply them to the hair. It will last for 4 to 6 months, depending on the hair type, environment, and aftercare.
Keratin treatments are some of the most popular types of hair smoothing as they are a proper choice for an average person. Most Keratin treatment users have curly hair but do not necessarily need severe chemicals and a complete rebonding to fix that.
Japanese Smoothening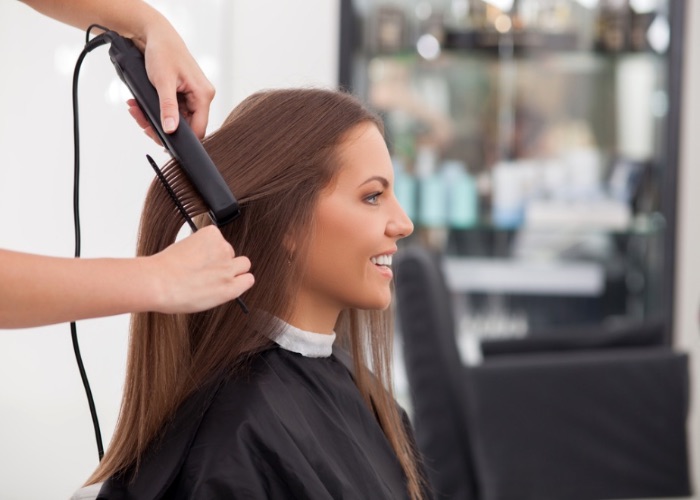 Also known as thermal reconditioning, this is the last resort for people with the harshest, most uncontrollable curls. In Japanese smoothening, the molecular structure of the hair is permanently altered. Like Keratin treatment, but with much more concentrated chemical solutions, the hair proteins are dissolved and reshaped to be manageable by brushes and straighteners. It would take from 6 to 8 hours to go through this treatment, and once your hair is thoroughly reshaped, you have to return to the salon for touch-up sessions and finalize the rebonding.
As your hair is completely changed for good, Japanese smoothening will be effective for about 7 to 8 months, and your hair will never be the same until regrowth. So despite being one of the most potent hair transformation methods out there, you must think twice before committing to such an irreversible change to your natural beauty and all the damaging side effects that come with it.
Hair Relaxing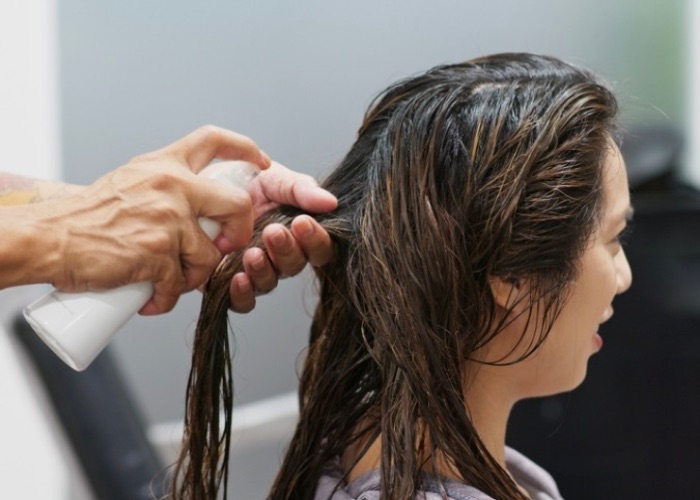 One of the least intense chemical types of hair smoothing, hair relaxing allows you to get rid of the general frizz and twisty hair by using special hair creams and masks designed for relaxing the hair, rather than reshaping it completely. Hair relaxing is an affordable treatment that would take a significantly shorter application time than the former method, about 1 or 2 hours, and will apply much less stress to your hair strands.
It is the perfect choice for individuals who do not have very curly hair and want smoother hair that is simpler to manage and condition. It will not fully straighten the hair and will be ineffective against the likes of coily hair, but in return, it gives you a natural look and will not break the bank.
Chemical At-Home Treatments
Like salon treatments, but simplified into a package and toned down to avoid extreme side effects due to the user's lack of experience. At-home smoothening kits intend on replicating the salon process in a quicker and less complicated way to allow the average beauty seeker to fulfill the essential steps to smoother hair from their home. Here are the most notable ones:
At-Home Keratin treatment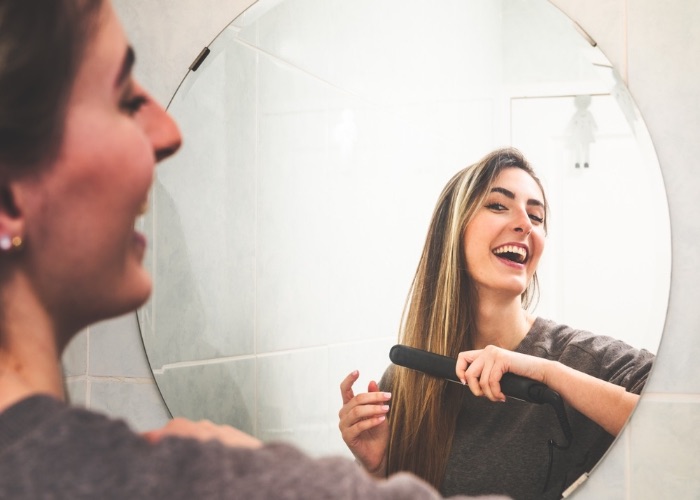 Cost-effective, powerful, and from the comfort of your home, At-home keratin treatment kits have been used as the ultimate option for individuals familiar with the tools and tricks of hair smoothening to reach a straight, sleek and shiny hair without a trip to the beauty salon next door. They will cost a fraction of the salon treatment, force much less stress and chemical toxicity to your hair, and, once done right, can be relatively effective in smoothing curly hair.
Keratin treatment kits have a shorter effective period and need skill and practice to be applied correctly. The chemicals are powerful, and a possible misuse may lead to severe consequences. It is highly advised to follow the instructions clearly and perform the hair smoothing in the presence of a friend. Select an airy room to avoid inhaling the chemicals and choose the suitable product variant for your hair type.
Hair Smoothening Serums, creams, masks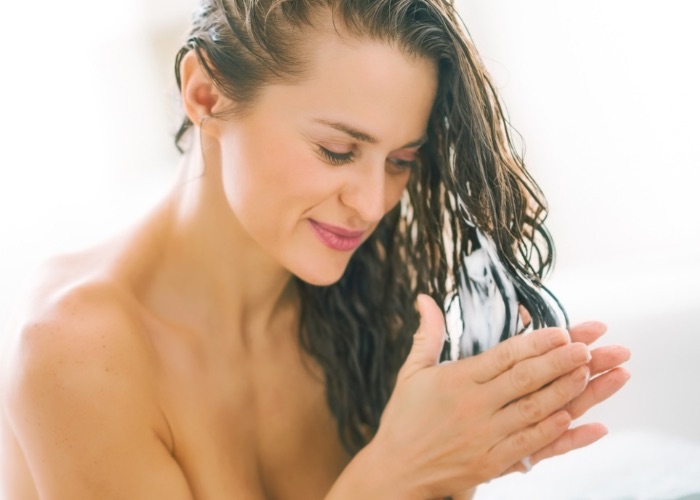 Probably the easiest and fastest way to achieve genuinely straighter hair, hair smoothening creams can be applied to your hair with your fingers after a shower to give you extra soft and sleek hair when dried and brushed. Designed for convenience, they do not need any tools or long application times, and there are models specifically focused on smoothing the hair.
They are ineffective against intense frizz and curl but can help every hair type be softer and more manageable. Plus, as they are mainly intended for hair nourishment and moisturizing, they will also bring you added benefits of protecting your hair from breakage, dehydration, and hair splits.
Natural Remedies
Using the powers of mother nature to battle the natural curls, naturalist beauty experts have combined organic ingredients to use each item's moisturizing, nourishing, protective qualities in favor of smoother hair. These homemade remedies will not magically transform your hair into another entity but will surely help make your hair softer and shiny without the horrible side effects of chemical smootheners. There are countless natural types of hair smootheners, but here are some of the widely used remedies:
Banana + Honey Mask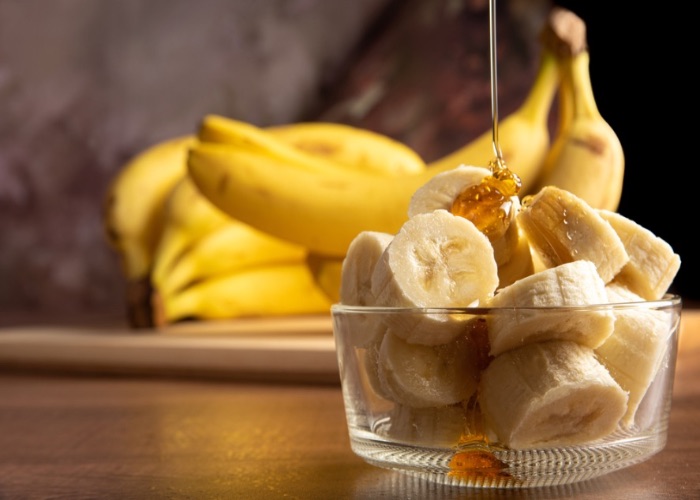 Banana is the ultimate natural moisturizer and will nourish your hair with plenty of protein, fiber, and potassium to give you shiny and smooth hair. Mixed with honey, which is one of the most valuable items against spoilage and bacteria, they will work wonders in softening your hair. It will repair the damaged strands, protect them from all kinds of pollution, and keep it this way for some time. Just mix them and apply them for 30 mins to enjoy the softness.
Milk + Honey Mask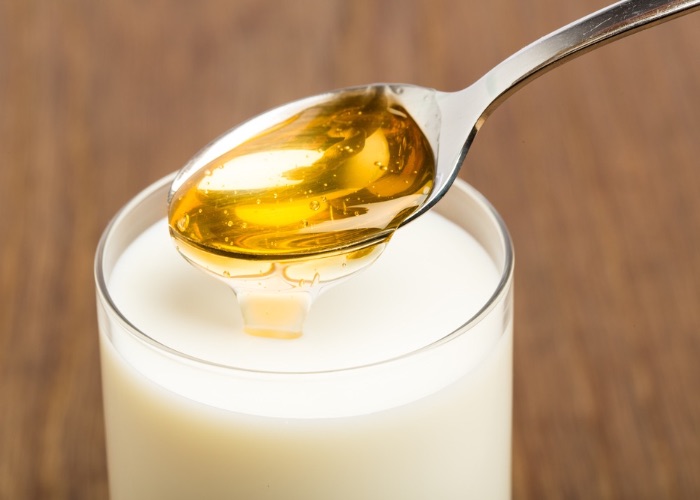 Milk is an excellent substitute for banana in the last remedy, as it is one the most known natural sources of protein. Whole milk also brings a healthy amount of fat to your hair to soften it further. Honey will seal the advantages, nourish the strands, and create a watery mixture that you can apply for longer hours on your hair. You can gently wash this mask away up to 2 hours after putting it on to reap all the benefits.
Coconut Oil + Aloe Vera Gel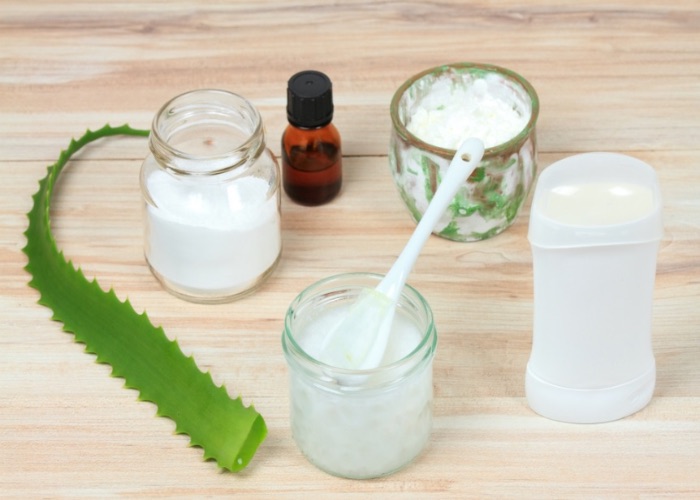 Another great combination of softeners and moisturizers, coconut oil, and aloe vera will help your hair receive the essential nutrients and be hydrated, resulting in hair that is smoother, straighter, and more manageable. Heat the mixture and stir it to come up with a thick mask, and apply it to your hair for 40 minutes to replenish your nutritional sources and relax your hair naturally.
Hot Oil Massage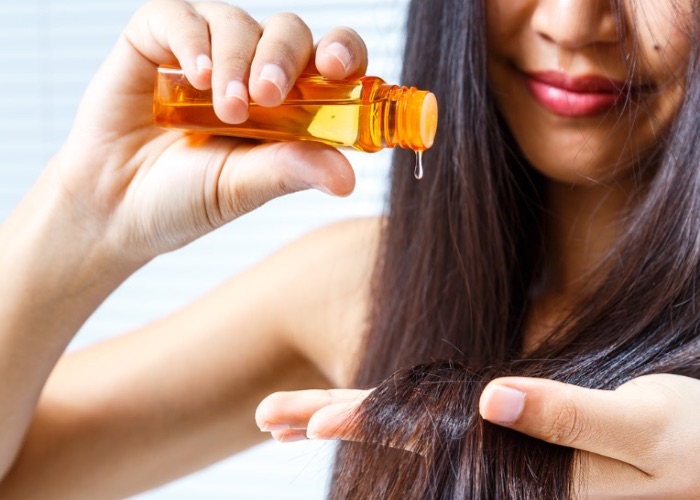 Several great oils can be used as different types of hair smootheners, but the more common mixtures involve coconut oil and castor oil. Coconut oil does its nourishing and relaxing role, while castor oil absorbs the humidity and keeps it around the strands. This fantastic combination results in hair that is well moisturized and is immune to dryness and frizziness.
Mix the oils and warm them until it is warm but not hot. Massage the mask on your head for 30 minutes and wash it off with a mild shampoo to notice the difference.
Coconut Milk + Lemon Juice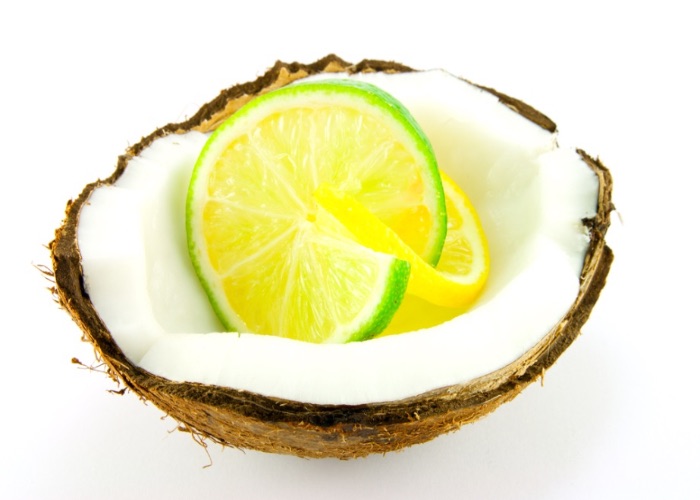 Coconut milk is another great source of protein, fatty oils, and vitamins. It refills the hair sources to help repair the damaged parts and replenish the lost nutrients. Lemon juice brings some acidity to break down smaller protein bondings and rejuvenates the scalp by getting rid of the damaged skin and improving blood circulation.
Put the mixture in the refrigerator overnight and apply the mask to your head for 30 to 45 minutes.
Physical Methods
While these may not be actual smoothening treatments, their main goal is to use heat or physical pressure to reshape the hydrogen bondings, which are partially responsible for the curling of the hair after you wash it. They use the simplest tools available at every home, and despite not being very effective for harsher curls, they can surely smoothen the smaller frizz and result in softer, smoother, and shinier hair. Here are a few common methods and a few surprises at the end:
Straightening with a flat iron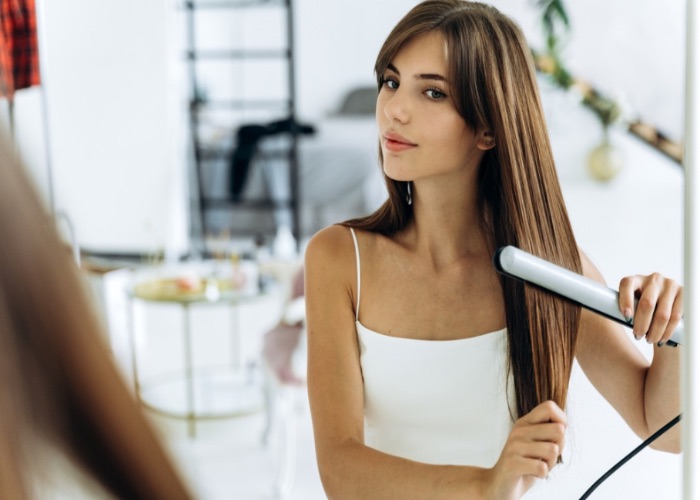 This is probably the first straightening tool to use for softening your hair for beginners. It is one of the most widely used types of hair smoothening that is used every day to get rid of small or big frizz until the next wash. If misused, it can harm your hair and result in burns and damages, so it is recommended to use heat protection sprays before using a flat iron to minimize the damages.
Blow Drying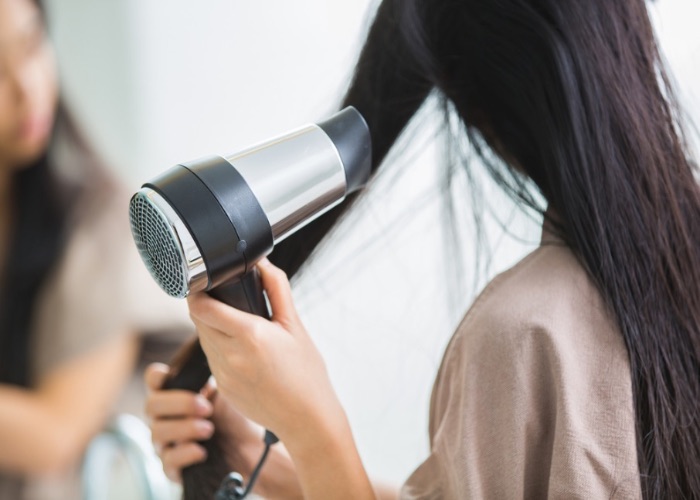 Similar to using a flat iron, a blow dryer applies heat to adjust the hydrogen bondings in a straighter order. As the heat is projected indirectly to the hair, the damage is significantly lower than a straightener, but its smoothening effect would not last as long. Brushing your hair and covering it with special straightening and shiny serums beforehand would give you even better final results.
Using hairpins and hair clips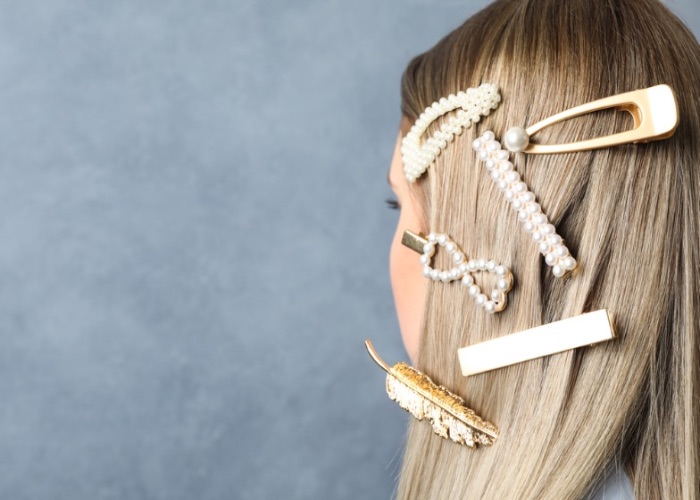 An old trick used by women worldwide, you can try locking damp hair with several hairpins next to the scalp, and leaving it to dry overnight can result in straighter hair once opened.
You will have to partially dry the wet hair to the extent that it is damp, but there is no water dripping from it. Then, using hairpins or hair clips, create small straight segments and pin them close to the scalp, preventing it from curling up. Wait until the hair is dried overnight, and remove the hairpins to have smoother hair until your next wash.
Using multiple hair ties and bands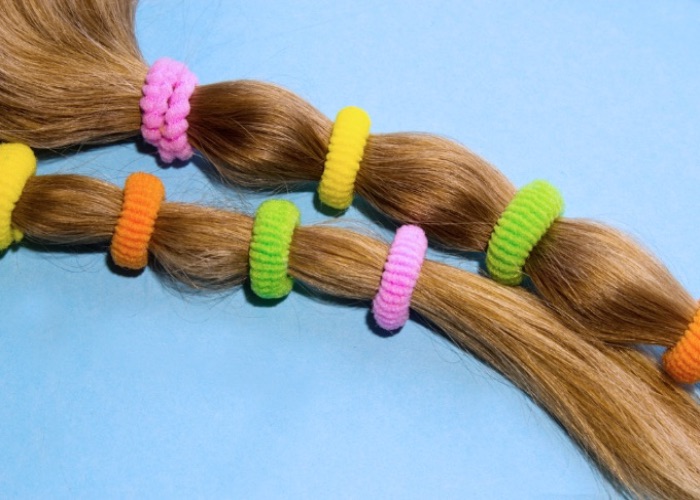 This method Uses a similar strategy to the last method but uses hair ties and bands instead. Form your hair into one or two ponytails and tie every inch of your hair again as you reach the end of each tail. Careful not to tie them too harshly and leave tie marks. This is a better choice for people with longer hair because it is easier to create small straight segments on a
Frequently Asked Questions
How many types of hair smoothening are there?
There are a few strategies to get rid of curly strands and have straighter and smoother hair. However, there are many ways to implement those strategies to create methods that balance efficacy and harmfulness. We went through the most common types of hair smoothening in this article. Still, there will always be another next big thing around the corner, offering similar or better results with fewer side effects by using an innovative formula.
Which type of smoothing is best?
That depends on your current hair type, level of frizz, the humidity of your environment, the amount of risk you are willing to take, and the extent that you will commit to the necessary aftercare.
Beautster has brought together all the technicians and hair salons around you that specialize in different types of hair smoothing to help guide you through finding the best option for yourself! Have a look, check out their calendar, and book a consultation session immediately to ensure your hair's well-being and enjoy having the smooth, straight, and shiny hair of your dreams!